Buying a home is a big deal and can be a huge expense for any budget, but especially if you are first starting out. And trying to save for a home while renting can be an even bigger challenge—especially if you are also juggling student loans paired with a higher cost of living. But Generation Z (anyone born after 1997) is on track to own more homes by age 25 than
any other recent generation,
and if you're one of the many individuals in this age group looking to purchase your own home, know that it is possible, despite these challenges.
At CS Bank, we look to support first-time homebuyers of all ages, offering advice including
First-Time Home Buyers Guides
and
First Time Homebuyer Do's and Don'ts.
In this post we'll give our best tips for how to save for a home and down payment (even while renting!), from the best savings accounts to grow your savings to low down payment loan programs to make homeownership affordable.
Start Saving Early
If you've had a
habit of saving since childhood,
this may come easily to you. You may even have a small nest egg already built up to give you a jump start! But if you haven't started saving yet, the sooner you start the better. While there are loan programs available that can help first-time homebuyers like you purchase your home without a huge down payment, you will still need enough money saved up to pay for closing costs, from taxes and insurance to title transfer fees—and more. These costs tend to add up to 3-6% of your home price, on top of any down payment you may need.
How much you'll need to save mostly depends on the purchase price of your home, but how long it will take to save enough will depend on your budget (and how much you can afford to set aside each month).
Create a Budget

Everyone should have some kind of budget that they follow, whether it's a basic one that approximates income and expenses to create a balance between the two (and avoid overspending), or a more technical plan that uses apps to track spending and pay and automatically sets aside a specific amount each month for saving.
When you're already out there on your own, paying for your own living expenses and housing, it may seem hard to find the extra money to set aside each month. But making a budget can help you find ways to cut out the things you don't need to spend money on, find ways to save money on the essentials (more on this next), and reach your savings goal faster.
Reduce Expenses

Once you create a budget, you may find that there isn't as much left over for saving as you would like—or at least not enough to meet your goal for savings on the timeline that you were hoping for. You may need to make some tough decisions on how to reduce your spending, so you can instead put that money aside for your home purchase.
When you're just starting out, there are a few common ways to cut spending:
Make more food and drinks at home. Using bank account and credit card statements, examine how much you're spending each week on restaurants, coffee shops, and takeout. You may be shocked to see how much this adds up to over the course of a month. Determine how much you want to save, and then limit your visits accordingly. For instance, if you usually get a coffee at your favorite cafe every day, make it a once a week treat. If you're used to ordering from a delivery service, order directly from the restaurant for pickup to avoid fees (this might even incentivize you to just cook at home!).
Cut down on subscription services. From gym memberships to streaming services, the amount of subscriptions that you automatically pay for each month might become staggering. Take a hard look at whether you need each one, and what you could do to cut costs. It doesn't have to be all or nothing. Keep your favorite video streaming service, but cut the rest. Or put your gym membership on hold during the warmer months when you can take your runs outside.
Hold off on luxury purchases. The dream vacation, new car, or new gaming system may have to wait—when you're trying to save money, large ticket items can put a big dent in your wallet. Consider more affordable options, like camping instead of staying in a vacation house, getting a few more years out of your current vehicle, or gaming at a friend's place.
Pay off high-interest debt.
While this might seem counterintuitive, if you have a lot of high-interest debt like credit card debt, you could be paying for a lot more than what you originally bought—in interest charges alone. If you're only making the minimum payments, it may make more sense to wipe out your debt before it balloons even more. Once it's gone, you'll
be in a better position to apply for a loan
, and you can allot those funds for your monthly savings plan instead!
Setup a Dedicated Savings Account

When all your money is in one place—like a checking account—it can be easy to spend it, even the funds you were hoping to put aside for saving. While it may seem easier to just use one account, having a dedicated savings account doesn't have to be hard to manage, and it can help keep you from spending. Seeing your balance grow little by little can also be a great incentive to keep saving.
Setting up a special savings account just for saving for your home is a great way to stay on track. You can even use a
High-Interest Savings Account
to earn interest on top of your savings, so you can reach your goal faster. And after your home is purchased, keep this account to save for
other home expenses,
from unexpected repairs to planned improvements.
Automate Your Savings

We mentioned above that having a separate savings account doesn't have to be hard to manage. Automation is the reason why.
When you automate your savings, it takes the hassle out of depositing money into your account. You don't have to worry about falling behind on your plan because you didn't have time for a trip to the bank or didn't remember to make a transfer. All you need to do is find the right number to automatically transfer regularly (see section above about budgeting!), set it up, and watch your savings grow.
You can easily set up recurring transfers from your Kasasa Checking accounts to Kasasa Saver accounts using your CS Bank mobile app, changing the transfer amount as needed. Many jobs with automatic deposit also allow you to transfer a portion of your paycheck into a separate savings account—though this might not be as easy to manage or adjust (so be sure to budget carefully if you use this method).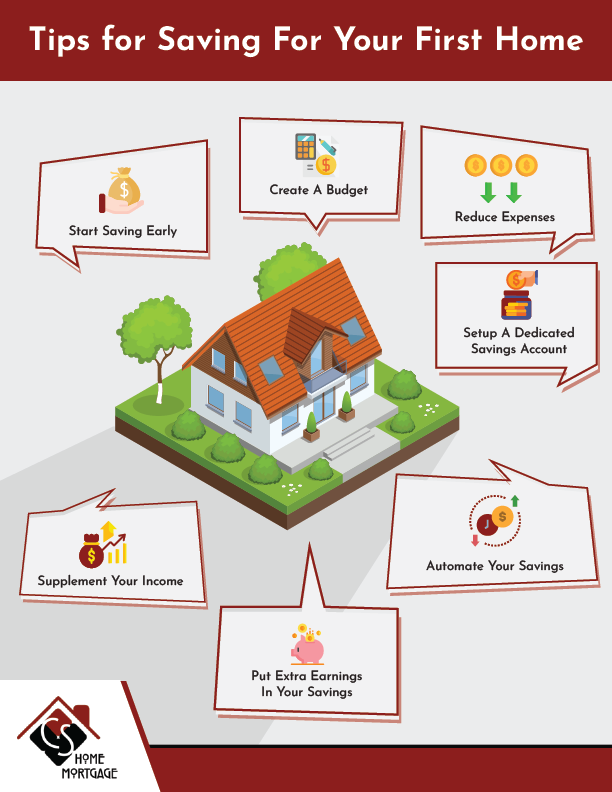 Put Extra Earnings Towards Your Savings

When you set up an automatic savings plan, you probably will err on the side of caution (and that's a good thing!). In other words, you may not put every extra cent into your savings, because you know your income and expenses will change from time to time.
Whenever you find yourself with extra cash that you know you won't need, take the time to deposit or transfer it into your savings account. Whether it's birthday money, a bonus, tax refund, or a good tip—or you just start racking up extra money in your checking—use these funds as an opportunity to give your savings a boost.
Supplement Your Income

You don't always have to wait for a windfall or make drastic cuts to your quality of life to boost your savings,. If getting into your own home is an important goal for you and you have the extra time and ability, you might want to consider supplementing your income.
Picking up a few hours with a side gig like Uber, Lyft, Grubhub, or DoorDash can give you a flexible way to earn a few extra bucks.
If your job has shifts, consider asking your boss to pick an extra shift once a week, or even once a month, and put that income right into your savings account.
Have a lot of designer accessories, clothes, or shoes that are barely worn? Consider selling your extra high-end items on Poshmark or other sites.
If your current apartment or rental home has an extra room, getting a roommate can give you extra income and lower your utility expenses.
How Much Should You Have Saved to Buy a House?

Because everyone will have different housing needs, the amount you need to save may be drastically different from someone else. Generally, you will need to save money for a down payment, as well as 3-6% for closing costs. First, you should do some research to learn what you can expect to pay for the kind of home that you hope to buy.
Using real estate listing sites can give you a general idea of regional housing costs. You can browse local listings here:
As you browse listings and research median home prices in your desired area, keep in mind that you may need to adjust your expectations based on what you can afford. When you have a rough idea how much homes cost, you can determine how much money you need to save.
It's easy to calculate 3-6% of closing costs, but figuring out your down payment that you need to save for isn't as simple. For a conventional mortgage, you are often required to put down 20% of the home price (though it may be possible to put down a little less). However, many first-time homebuyers may struggle to come up with such a large sum, so know that
large down payments are not always required.
You can always work with a
local lender
to find a loan program that has a low or no down payment option. These include
FHA Loans
(as low as 3.5% down) and
VA Loans
for veterans and
USDA Rural Development Loans
for qualified individuals buying homes in rural areas (no down payment), as well as regional down payment and closing cost assistance programs to offset your out-of-pocket costs. Note that some of these programs do have additional fees (paid upfront at closing or added each month). Speak to your lender to learn more about them.
What to Know about Down Payment Gift Money

If someone is assisting with your down payment, you'll need to provide a gift letter from the person that gave the funds that explains that the money is a gift and not a loan to be repaid. You may also be asked to provide proof of the transfer into your bank account. Your lender can help you get these documents (
and others you may need)
in order at the time of your loan application.

Borrowing Against Your Retirement Savings

If you've been contributing to a 401(k) or Traditional IRA since you started working, you are allowed to withdraw up to $10,000 for your downpayment without incurring a penalty. However, there are some caveats:
With a 401(k), you don't get to keep the funds—they're only considered a loan. You will need to pay back the amount borrowed with interest (though you are essentially paying yourself). You also won't be able to make contributions until the amount you 'borrowed' is repaid.
With IRAs (both Roth and Traditional), you can use up to $10,000 of your funds for a down payment, penalty-free. But if it's from a Traditional IRA, expect to pay taxes on any funds you withdraw. And remember—whatever you withdraw today won't be collecting interest and helping you to achieve your comfortable retirement years down the line. A large withdrawal could set you back many years in terms of how much your account will be worth down the line.
Using retirement funds is an option—but it shouldn't be your first option. Working with your lender or a trusted financial professional at your local bank, you may be able to find better choices to make homeownership affordable.
Start Saving for Your First Home Today