So you're ready to start on the journey of purchasing your first home, but are maybe feeling a little apprehensive about the whole undertaking. Maybe you've read
homebuying horror stories
online or seen them on TV, or are concerned about the complexities of the mortgage application process. With
record-high home prices in rural Missouri,
the market can certainly be a little intimidating.
The good news is that there are steps you can take to give yourself a competitive edge while at the same time making for a smoother and less-stressful homebuying experience. This post will provide some easy-to-follow homebuyer tips to avoid common first-time buyer mistakes and help you achieve your dream of owning your own home. Keep reading to learn more about the Do's and Don'ts of buying your first home in Cassville, Missouri!

Do's: Best Practices for Buying a Home
Buying a home is a complicated process, with lots of pieces and lots of potential pitfalls. While there are thousands of great resources out there for first-time homebuyers, including our own
 Arkansas first-time homebuyers guide,
all the information can be overwhelming. By following the basic advice below, you can avoid many hiccups along the way that could make your homebuying experience difficult or disappointing instead of enjoyable and exciting.
Know what you can afford.

Before you even begin to start looking for a home in earnest, you'll need to have a general understanding of what you can afford. When determining the size loan that you will qualify for, banks will look at three main things: your credit rating, your income, and your debts. We'll discuss credit scores more below, but keep in mind that lower credit scores can increase your interest rate, which means your monthly payment will be higher (in other words, you'll get less house for the same payment). As far as income and debt are concerned, lenders don't want to see more than
43% of your gross income go to your debts, i
ncluding your new home loan.
Lastly, your
down payment amoun
t will also play a role in your monthly payment, and possibly even your interest rate. While first-time homebuyers have some flexibility due to many first-time home -buying programs which often offer a minimum down payment of 3% of the home purchase price.
Rural Development loans
offer up to 100% financing with no money down.
This is a very common home loan for first time homebuyers, though it's not necessarily limited to first-time buyers.
Even if you might be able to otherwise afford a larger home, if you can't come up with the down payment, you might have to go smaller. Too many numbers to juggle? Consider using our free
mortgage affordability calculator
, to help.
Once you have an idea of your loan size and monthly payment, you can start looking at what that can buy in your area. The cost of homes will vary from every town and neighborhood depending on a number of factors but understanding the average local home value is a good figure to start with. In Cassville, the median home value is currently $115,200.

Know your credit score.

As you begin to calculate what you can afford, you'll need to know your credit score. It will impact your access to certain first-time homebuyer programs, your ability to qualify for a loan, and your interest rate. As
Experian explains,
"Many lenders offer a catalog of mortgage products designed for applicants with a range of credit," but there are minimum credit ratings for all products out there. For example, FHA loans can require a score of 580 with a 3.5% down payment, while conventional mortgages usually require a score of 620 or higher .
Check your credit score in advance of applying for a mortgage pre-approval. You can also obtain copies of your credit report from the three credit reporting agencies by visiting
AnnualCreditReport.com.
If your credit is borderline, you can do some things to make a modest improvement to your score, including paying down debt, dealing with collections, and disputing errors on your report.

Get pre-approved.

Even if you take the time to calculate your home affordability on your own, that doesn't matter much to sellers unless you have some kind of official documentation that shows that you will qualify for financing to purchase a home. That's exactly what a pre-approval letter will provide.
Once you are confident that you are ready to take the next step, you should reach out to potential lenders to start the process. As
Investopedia
puts it, a pre-approval is like a "'physical exam' for your finances," looking at your debts, credit rating, income, and employment history. Your lender will do a "hard credit check," meaning that they will pull your credit reports, and this will be documented on them. But as long as you apply for an actual loan, there is no long-term harm to getting a pre-approval. Once you have the letter in hand, you'll know exactly what your budget will be, and can begin the process of house hunting!
Choose the right real estate agent.
Finding the right agent can make all the difference for you in your first home buying experience, so don't just settle for the first name that you hear. Start by asking friends and family for recommendations, and also look for common listing agents in the area where you would like to buy—they will have the most familiarity and experience with specific local needs and idiosyncrasies. Lastly, speak with more than one agent to see who feels like the best fit in person. For more information on how to hire the right agent for buying, check out
Zillow's extensive guide.
Look at multiple houses.

As with choosing an agent, even if you fall in love with the first house you see, make sure you view multiple homes before making an offer. First-time homebuyers often possess the perfect mix of excitement and inexperience which can lead them to make decisions they later regret. The more homes you visit, the more experience you will have judging the value of the home against its price, looking for potential issues with the location, layout, or condition of the house, and making sure you really know what you want and need. According to Realtor.com, the average homebuyer will look at ten homes and spend ten weeks on the hunt before making an offer. Even in tight markets, it's often best to take your time.

Work with a local mortgage lender.

While pre-approvals might seem more convenient online than in person, working with a local lender when you are a first-time homebuyer can be a major benefit. There are three reasons for this:

1. Perhaps most importantly, a local lender will know special programs and grants available to first-time homebuyers that may only accept applicants from your particular state or town. Online lenders may not be aware of these opportunities.

2. A local lender can take the time to sit down with you to explain your
mortgage options
in person, and offer conveniences like dropping off documents rather than scanning and uploading. They will also be more accessible should questions or issues arise, especially during closing.
3. Lastly, your local lender will not only know the local real estate market, but may even know your agent, ensuring that you have a well-synched team on your side as you make your offer, apply for your loan, and navigate closing.
While it's a great idea to seek a pre-approval from multiple lenders, make sure at least one of them is local.


Don'ts: What Pitfalls to Avoid

As you are applying for a home loan and making offers on houses, there are a number of costly blunders that homebuyers—first time and experienced! —can make. Though following the "Dos" above and working with an experienced realtor and lender will help you circumvent many of these potential mistakes, here are a few "Don'ts" to avoid.
What to Avoid When Making an Offer

Especially during a competitive housing market, buyers might go out of their way to make their bids more competitive or rush into decisions they might later regret. The job of your agent is to help you avoid these costly mistakes, but that doesn't mean that you, as a buyer, shouldn't be aware of potential errors many people make when purchasing your first home. These can include:
Overbidding on a house. While you might need to go over-asking for a home, if you make an offer on a house that is more than the appraisal value, the mortgage company will not cover the additional amount and you may have to put more cash down. If you don't have those funds, you might risk losing the home.
Making emotional decisions. As mentioned above, emotions can run high when purchasing your first home, and it's important to not let them take the wheel as you make one of the biggest purchases of your life. According to The New York Times, the recent boom in home buying during a tight real estate market, has left 75% of buyers with regrets about their purchase.
Skipping the inspection. Many homebuyers will opt out of inspections in order for their offer to appear more competitive to sellers, but if your real estate agent suggests this, think twice. Keep in mind that buying a home is about more than just closing the deal, and making an as-is offer can cost you thousands of dollars in the future in unforeseen costs. This is especially true for first-time homebuyers who may not know what potential problems to look for in a home. Worried you will lose a bidding war if you insist on an inspection? Money.com offers some safer alternatives to skipping an inspection altogether, while still remaining competitive.
What to Avoid When Waiting for Closing

Again, working with an experienced, accessible lender means that they are able to advise you, every step of the way, on how to ensure that you make it to closing without any major hitches. But even if your lender warns you about what to do and not to do as you await final approval, there are some things worth repeating. In order to keep your loan application proceeding smoothly, here are the top five things to avoid:
Changing jobs. Because lenders look at employment history as part of the qualification process, don't make any major changes during this period. They will want to see an established and consistent employment history, and may require 30 full days of paystubs
Taking on additional debt. If you receive a pre-approval for a certain debt-to-income ratio, then take on additional debt before your loan is finalized, you could find you no longer qualify for the same mortgage. This includes co-signing a loan for someone else or buying any big-ticket items for your new home on credit.
Increasing your credit card balances. While you may want to make some purchases for your new house, it's best to not rack up additional credit card bills until your loan is finalized. Having large account balances could change your credit score, undermining your ability to get the loan which you were pre-approved for.
Falling behind on bills. Though you might find yourself in a bit of a money crunch with the combination of your down payment and closing costs, it's vitally important that you stay on top of all your bills, to avoid putting your loan in jeopardy.
Depleting your savings. If you are tempted to buy things for your new home with savings instead of credit, keep in mind that part of your qualification might have taken the availability of those funds into account. Again, it's better to wait until after closing.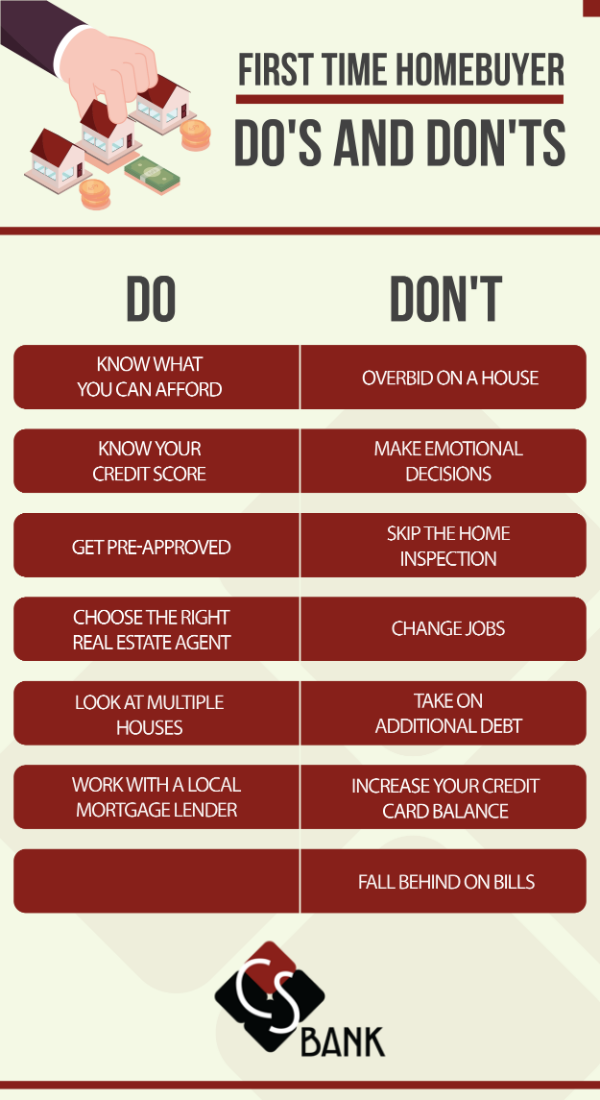 Take the First Step
When you are ready to begin the home-buying process, one of the best choices you can make is working with a local lender. Our lenders live and work here, in Northwest Arkansas and Southwest Missouri, and take pride in helping our community residents achieve their dreams of homeownership. With many
mortgage products
to choose from, we can help you find the home loan that's right for you. Visit our
Mortgage Center,
contact one of our expert
Cassville Mortgage lenders
. You can also visit us at your local branch. In addition to
Cassville
, CS Bank also has convenient locations in
Eureka Springs
,
Huntsville
,
Harrison,
Holiday Island
, and
Berryville,
Arkansas. Stop in and get preapproved today!