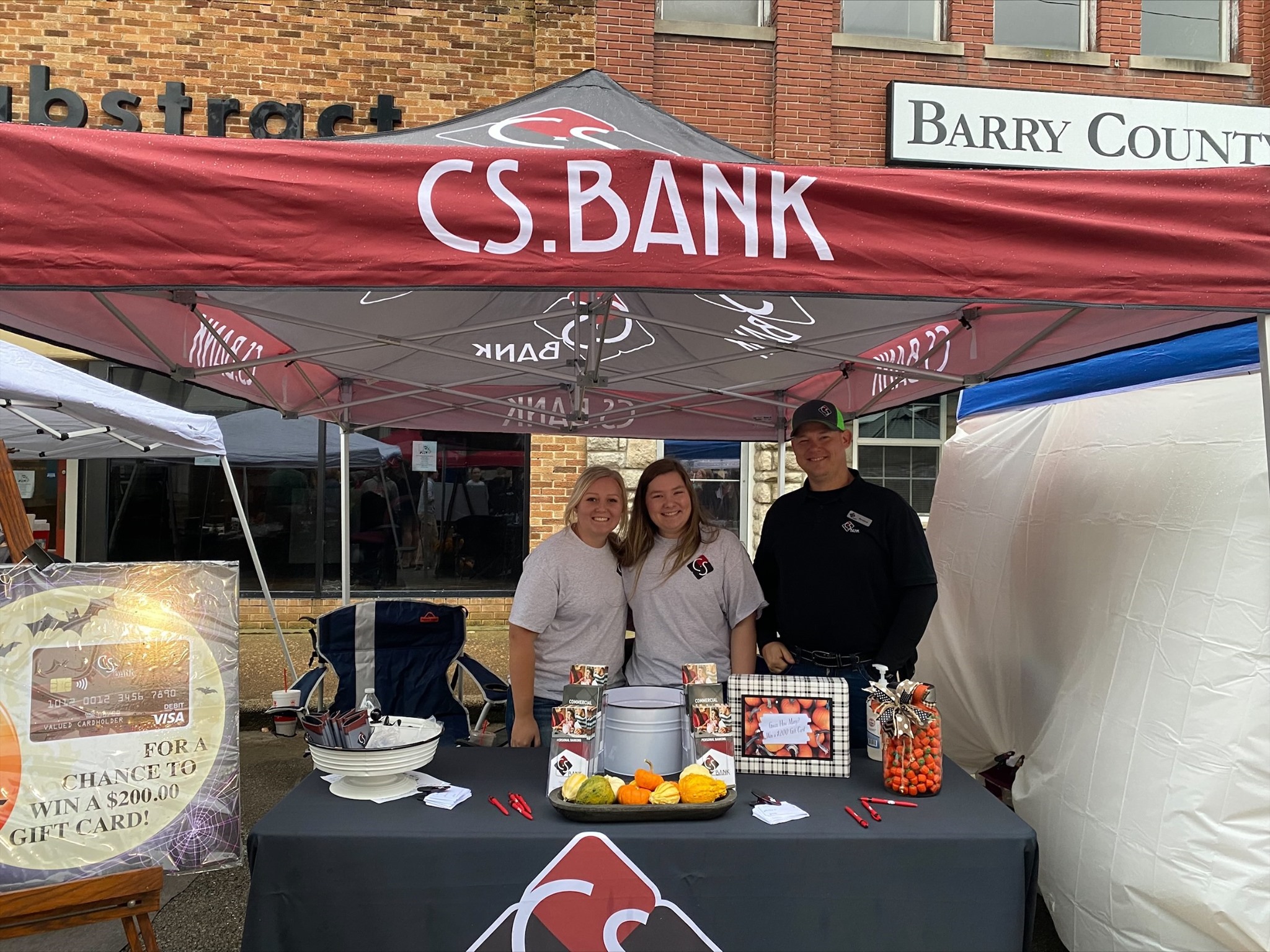 ---
At CS Bank we strive to give back to the communities we serve, helping to make them better places to work and live. CS Bank's Governing Board of Directors, Berryville Advisory Board of Directors and the staff are very involved in community service. Here are some of our most recent and memorable community events.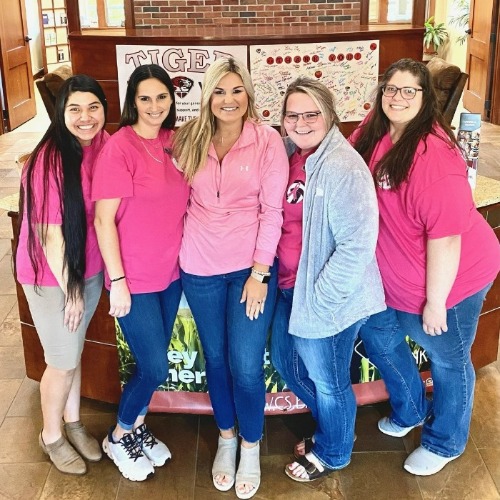 August 13, 2023 -Attended event at  Le Stick Nouveau support Good Shepherd Humane Society. 
August 7, 2023 - Partnered with Berryville Community Center to purchase Wireless LED Scoreboards for the gym. 
March 7, 2023 - CS Bank Team members attended the Huntsville High School Job Fair to talk to students about careers in banking. 
March 1 – 2023 – Opening Day of Trout Season in Cassville. Our team handed out snacks, CS Bank goodies, and our historic CS Bank calendars.
January 14, 2023 – CS Bank provides lunch for Carroll County Sheriff's Office.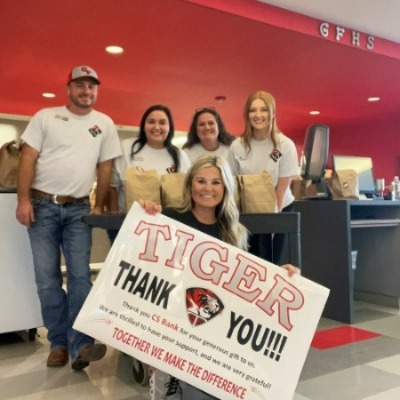 December 12 – 2022 –
CS Bank presented a $1,500.00 check to Eureka Springs High School Soccer teams! The funds will be used to purchase new warm-up jerseys for both the boys and girls soccer teams. 
October 2022 – The Berryville team participated in "Pink Out" as a tribute to long-time resident and teacher, Larissa Allen. Larissa bravely battled breast cancer and founded the ChemHo-Ho-Hope Foundation. (Photo).
August 8 – 10, 2022 – CS Bank provided lunch to teachers at local schools in Eureka Springs and Berryville to show their appreciation.
May 5, 2022, – CS Bank donated $1,000 to Grandma's House Initiative. Carroll County banks each posted a $1,000 sponsorship to the FFA Rodeo and selected their choice for the winning cowboy/cowgirl in each category. CS Bank chose the most winners and our $1,000 was given to the charity of our choice: Grandma's House Initiative.
March 15, 2022 - CS Bank donated $25,000 to the Eureka Springs Carnegie Public Library renovation project. The contribution was made in the name of Diane McClelland, who was a 31-year staff member and executive officer of the institution.
January 19, 2022 - CS Bank donated $5,000 back to the communities the local bank serves, representing funds generated by the Skip-A-Payment program. The donations will allow various organizations to purchase necessary items for local families during hard times. Donations were made to each of the following communities: The Flint Street Pantry and ECHO Clinic in Eureka Springs, Grandma's House in Berryville, The Elizabeth Richardson Center in Huntsville, Fraternal Order of Police in Harrison, and The Cassville Pantry and Haven of the Ozarks in Cassville. All funds will be used to assist needy families in the markets CS Bank serves.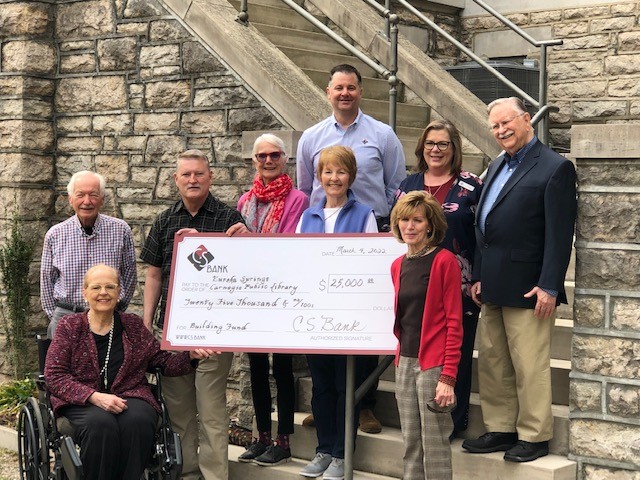 November 8, 2021 – CS Bank took part in the first-ever Carroll County "Soup-er" Bowl! Our team along with 13 other participants competed in a chili cook-off to raise money for the Berryville and Green Forest schools!
October 24, 2021 - Our team in Eureka Springs participated in the Yahkie Strong benefit, where our very own Chance Robbins won the rib smoking competition! This event was a huge success and will greatly help Yahkie and his family while he continues to heal and go through more medical procedures.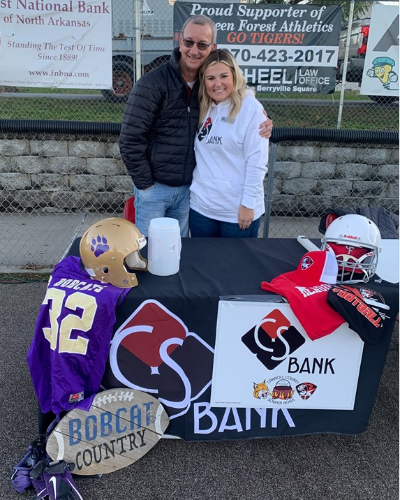 October 23, 2021 – The CS Bank team participated in the Cassville Chili Cook-off hosted by the Cassville Chamber Of Commerce.
June 23, 2021 -
CS Bank pledged $100,000 toward the construction of a new Berryville Library. "We are not just contributing toward the construction of a new library, we are investing in the future of educational resources that will serve everyone in this community for many generations to come," stated Charlie Cross, CS Bank CEO, "We understand that a public library is a cornerstone of a healthy and thriving community that values learning, and as a committed partner in this community, we are grateful to be part of this project". For more information on the Berryville Library Building Project or to learn how you can become a Friend of the Library, visit
berryvillelibrary.org/Friends.