You're looking for ag loans in Northwest Arkansas or Cassville, Missouri and we know the business. CS Bank has been helping farmers just like you start, grow, and succeed in agriculture for over a century.
CS Bank understands your ag lending needs. We provide our agricultural loan customers with competitive financing options to accommodate all types and sizes of farms.
CS Bank offers agricultural lending solutions for every unique need, including loans for land, farm buildings, equipment, poultry, breeding livestock, and everything in between. Our local lenders provide attentive, friendly service from start to finish, making the lending process easy and painless. If you're looking for ag lending banks in Northwest Arkansas with hands on experience, check us out!
Ag Real Estate
Whether you have a small farm or a large operation, CS Bank strives to find the type of loan that suits your needs, while providing you with top quality customer service. Are you purchasing equipment? Are you interested in refinancing your farm loan? Our loan staff recognizes that everyone has different financial needs and will work with you throughout the entire loan process to ensure that you understand and are comfortable with your loan. Contact one of our Loan Officers to find the loan product that is right for you.
Poultry
Our dedicated poultry team has decades of combined agriculture industry experience. We understand your business from construction bids to receiving birds, and we'll gladly answer any questions you may have throughout the process.
If you're ready to update your current poultry farm, a poultry house retrofit can significantly improve the operation of your farm. Retrofits can include the installment of new feeders, better controllers, ventilation upgrades and improvements to lighting and energy-efficiency.
Livestock
Our Livestock loan program helps take the uncertainty and risk out of buying livestock. Solid advice and great interest rates are what our customers appreciate, so that's what CS Bank consistently brings you.
We work alongside you to set up loans for specific livestock purchases or seasonal needs so that you can buy when the time is right for you. Our Ag Loan experts will find the right-sized finance solutions to keep up with your business. Whether you want to increase your herd or are just starting out, CS Bank can help.
Equipment
If your tractor has finally tilled its last turn, you need another cake machine, or maybe just want to update some of your grandpa's third generation equipment, CS Bank can help you with your financing needs through a variety of terms and options on farm equipment loans.
Operating
As a bank with deep roots in agriculture, CS Bank has an in-depth understanding of the economic cycles and unique demands that impact agricultural communities and their ranchers and farmers. We can assist you with your farming operation through lines of credit, agricultural real estate loans, equipment loans and much more.
FMAC
In addition to our own financing options, CS Bank also originates and services agricultural real estate loans through Farmer Mac, which provides growers with choices for long term fixed rate loans. These loans have competitive rates and no prepayment penalties.
Farmer Mac is the nation's premier secondary market for agricultural credit, increasing the availability and affordability of financing for those in the agricultural community. They are committed to offering financial solutions that benefit American agriculture and rural communities.
SBA
In addition to Farmer Mac, CS also offers loans through the Small Business Administration (SBA). The SBA guarantees loans to help businesses that wouldn't typically qualify for a conventional loan, making it easier for ag businesses that are just starting up to obtain financing. Let CS Bank match you with the right loan for your farm's needs.
FSA
Similar to SBA loans, loans guaranteed through the Farm Service Agency (FSA) allow us to make agricultural credit available to farmers who do not meet the normal underwriting criteria. FSA loans have the option of no down payment and offer lower rates and better terms. Farmers and ranchers submit an application with us, then CS Bank works directly with FSA to assist in the necessary paperwork for the guarantee.
Local Lenders Provide Added Value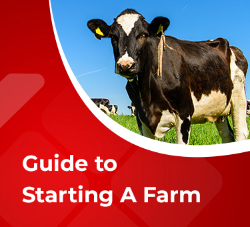 As a farmer in Northwest Arkansas or Cassville, Missouri, you need a bank that knows agriculture and can deliver hands-on service. In addition to the lending services we offer, CS Bank serves as a valuable hub for knowledge of ag activity in Northwest Arkansas, and Cassville, MO. Many of our lenders are or have been farmers and spend much of the time in the fields, visiting clients. This firsthand experience paired with our competitive rates and local processing of loans makes CS Bank the perfect solution for farmers.
By offering a variety of farm loan products as well as the added value of our local service, CS Bank is helping to secure the future of rural communities and agricultural businesses in Northwest Arkansas and Cassville, Mo. 

Ready to apply for an Agriculture Loan?
To apply for an agriculture loan, fill out an agriculture loan application, and send the completed form to csinfo@cs.bank. You can also bring it to any of our convenient locations in Eureka Springs, Holiday Island, Berryville, Huntsville, Harrison, Arkansas, or Cassville, Missouri. 
If you have any questions about the application, email us, or contact us at 479-253-2265.