While we enjoy working with you directly, we want you to have access to your CS Bank accounts whenever it's convenient for you, which is why we offer CSB.Mobile apps.
What is CSB.Mobile?

To make accessing your online banking account on the go even easier, CS Bank has free CSB.Mobile Apps available for all major devices:
iPhone®  and iPad® App
Download CS Bank's App for your  iPhone® or iPad®  and mobile banking is just a touch away! Find our FREE CSB.Moble App for Apple devices in the App Store. 

Download App for iPhone® or iPad®
Android™ App

Download CS Bank's Android™ App and banking is just a touch away! Find our
FREE CSB.Mobile Android® App
in the Google Play Store.

*Most web-enabled phones can be used with our mobile banking system. Your cell phone provider may charge additional fees for Web access or text messages. CS Bank is not responsible for charges incurred from your cell phone provider.
 Benefits of CSB.Mobile
View Account Balances and Transactions
View images of checks and deposit tickets
Funds transfer and loan payments
CSB.MobileDeposit (Upon Approval) Deposit checks from the comfort of your own home. 
Funds transfer between banks with Bank-to-Bank Transfer (Upon Approval)
FREE bill payment service (see CSB.ePay above)
View CSB.eStatements (see CSB.eStatements above)
Find CS Bank ATMs and Branches

Bank-to-Bank Transfer (see CSB.Online above)
CSB Mobile Deposit
Deposit checks into your checking or savings account from anywhere in the world using your smart phone. Get started by checking out our "How-to" video. 
Digital Wallet
Enjoy a digital way to pay! With 60% of Americans currently using a digital payment service, we recognize the need for digital payments and are excited for you to enjoy the convenience of a digital way to pay!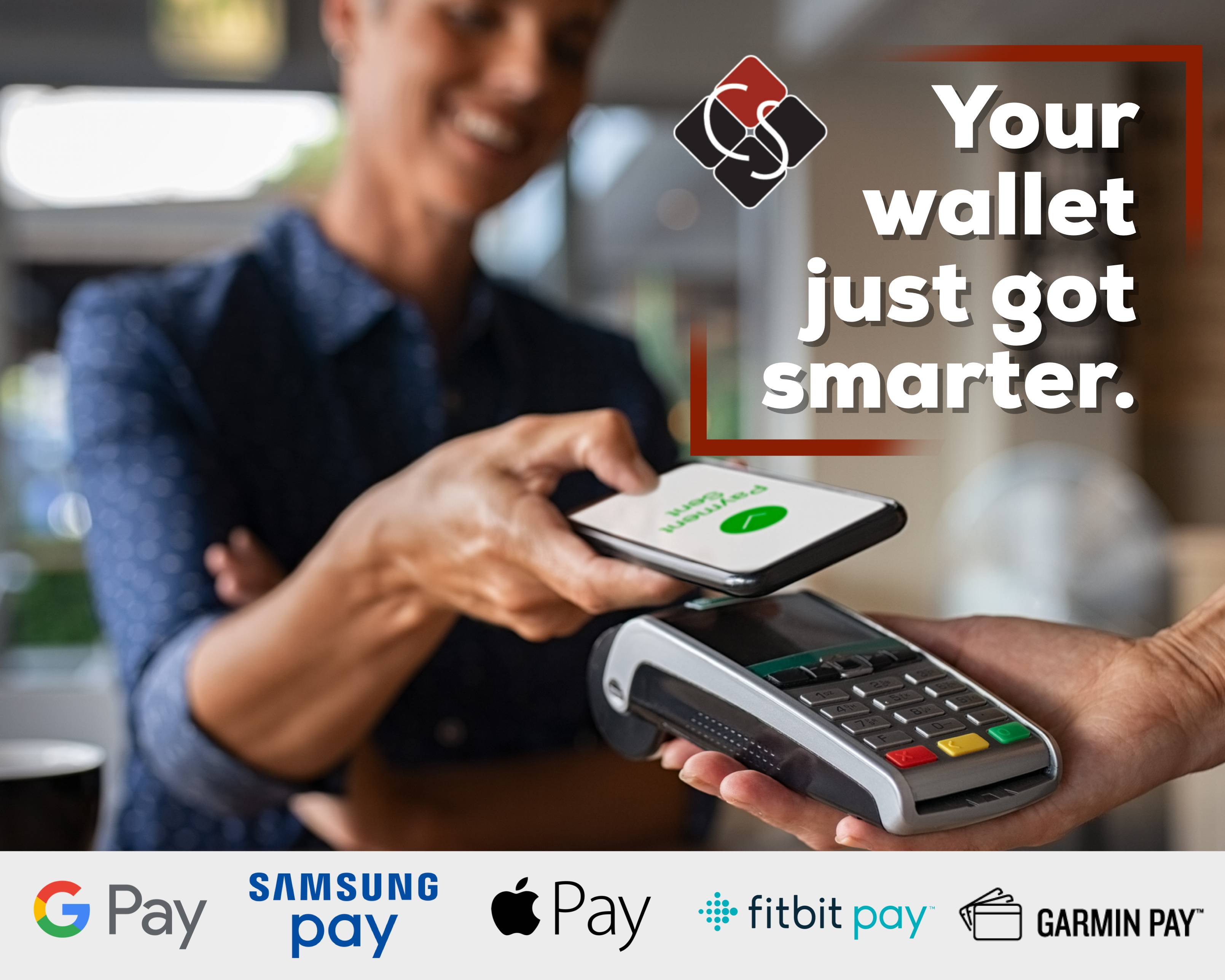 How does Digital Wallet Work? 
Time is precious. Digital payments provide a quick and simple way to make secure purchases. Each wallet has its own unique security features and provides you with flexibility on how you choose to pay. To enroll, just follow the prompts on your smartphone, then take it for a spin! Your world is digital, and now the way you pay is as well.
We support:
Apple Pay
Google Pay
Samsung Pay
Garmin Pay
Fitbit Pay
Security Is Our First Concern.
CS Bank's online banking services are completely private and confidential. Your unique ID, Password and Personal Identification Image are required before any information about your account can be obtained, and your complete account numbers never appear on your screen. In addition, all data is automatically encrypted.  You can be confident your data is treated with the utmost security.  However, it is your responsibility to make sure your computer has appropriate up-to-date anti-virus and anti-spyware software.
Travel Notices
Going on a trip? Set up a travel notice for your CS Bank debit card using the CS Bank Card Manager App. 
Get our mobile banking app in Northwest Arkansas and Cassville Missouri!
At CS Bank, we are all about the community. Our objective is to be the "banking family" that you're looking for through our superior customer service. To learn more about CSB.Mobile Banking, fill out our online contact form or visit one of our convenient locations in Northwest Arkansas or Cassville MO, to speak with a bank representative. Download the CS Bank mobile app today!